admin_st
At the recent Offshore Support Journal – Middle East 2021 Conference, Managing Director Anantha Padmanabhan shared insights on Green and Lean Maritime Operations and the latest developments in hybrid, battery, hydrogen and fuel cell technology.
The Conference took place in Dubai in its original live format on 28-29 November, bringing together key players in the offshore support vessel (OSV) sector.
The Conference focused on the key opportunities in the Middle East and Africa regions for future vessel utilisation, technology innovations driving vessel optimisation, and green fuels for decarbonisation.
In Going green – The Move Towards Alternative Fuels, Mr Anantha Padmanabhan, MD, SeaTech Solutions Europe spoke on developments in hybrid, battery, hydrogen and fuel cell technology and reviewed the new technology cost considerations and the operational and environmental benefits of alternative fuels. He also presented the futuristic vessel designs of SeaTech.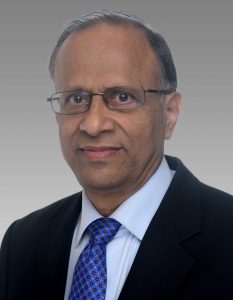 (Mr Anantha spoke at the Offshore Support Journal – Middle East 2021 Conference.)
Mr Anantha spoke on alternative fuels, hydrogen, fuel cells, batteries, hybrids, and technology adoption in the ship design process.
It is noteworthy that SeaTech has signed a joint development project (JDP) agreement with RINA and Fratelli Consulich to develop an ammonia bunker tanker design at a time when ammonia is gaining traction as a potential zero-carbon fuel with ammonia dual-fuelled newbuilding orders being placed.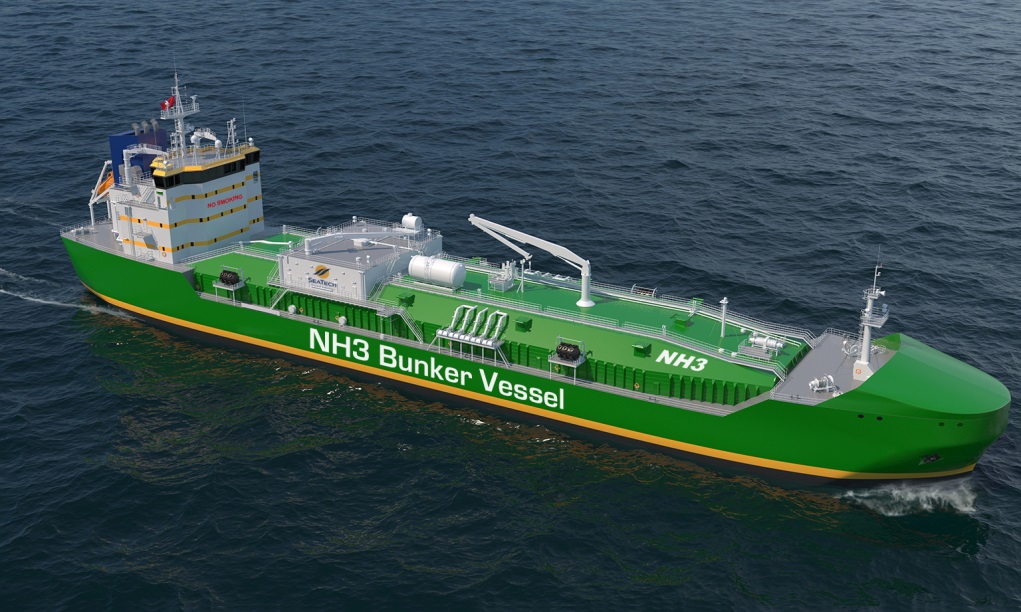 (Ammonia bunker tanker fuelled by Ammonia. Image credit: SeaTech Solutions International)
The salient features and characteristics of hydrogen as a fuel, in dual-fuel engines combined with natural gas, and in fuel cells, the advantages and disadvantages of hydrogen as well as pertinent issues were elucidated.
Fuel cell definition, fuel cell system, types of fuel cells, and issues were explained.
Next came battery technology, characteristics and developments. The use of battery technology in electric/hybrid bunker tanker and EVT Tug Boat were also explained.
Developments in hybrid technology were shared, together with the technology adoption of fuel cells. On hybrid technology adoption, applications and sectors involving various types of fuels such as LNG, LPG, Ammonia, Hydrogen and Methanol were given an update.
SeaTech led Consortium for Vallianz of Singapore is designing the next generation environmentally friendly electric tugs based on SeaTech's "EVT-60" design. The all-electric tug ("e-tug") is designed to be powered by clean energy with an aim of zero carbon emission.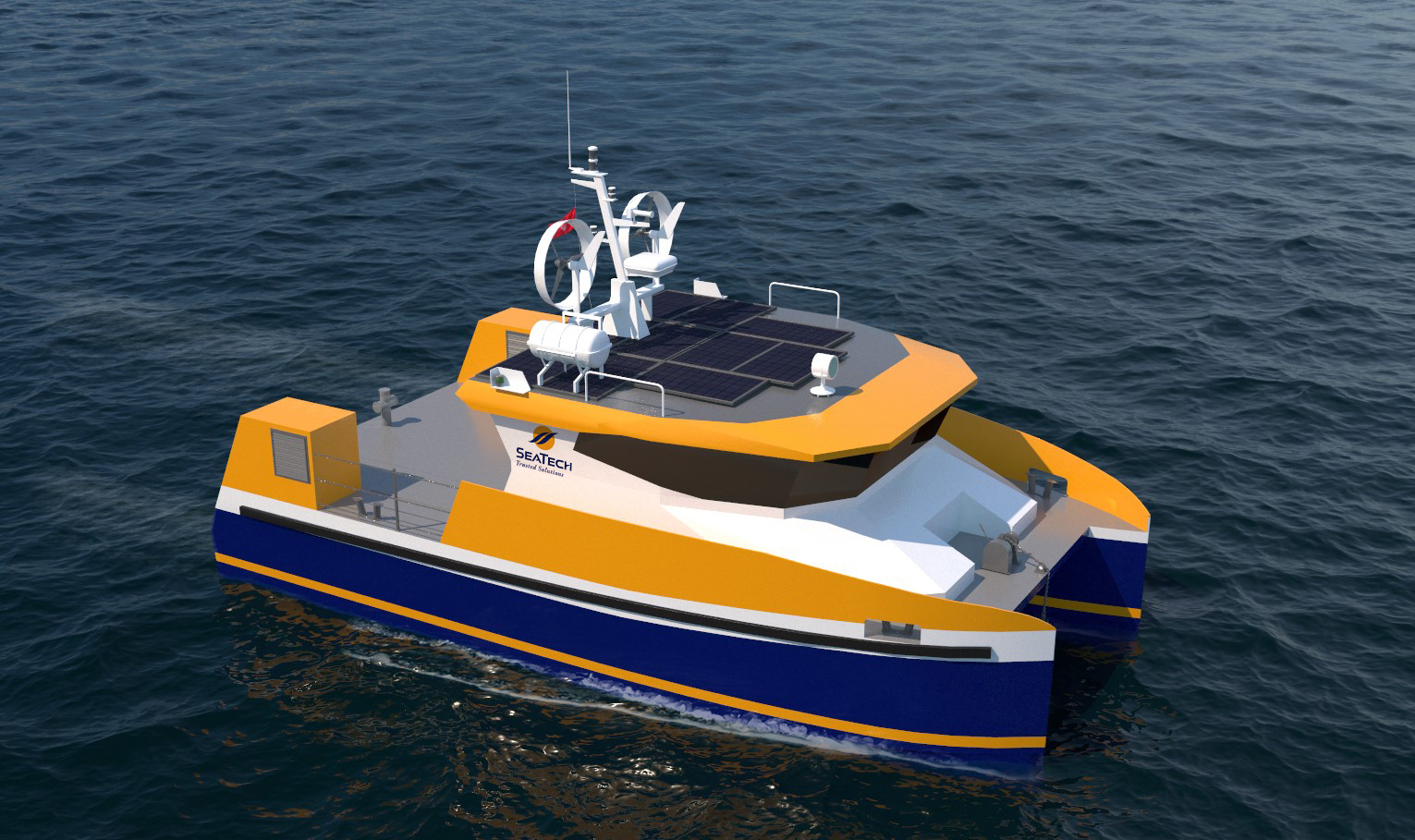 (Electric Lighter Craft. Image credit: SeaTech Solutions International)
SeaTech is also developing Singapore's next generation electric lighter craft, together with consortium partners.
"It's still early days in the adoption of alternative fuels in shipping. Some pilot projects are in progress," says Mr Anantha.
"Hybrid solutions are likely first. Larger vessels operating on long distance sea trade may continue burning low sulphur fossil fuels. LNG is likely to be the transition fuel as shipping sails towards alternative fuels," he adds.
Last but not least, the impact on ship design was explained including salient points such as fire protection, hull strength and fuel storage pumps and piping system.
The two-day event provided a unique platform to identify new technology, tackle challenges and knowledge share to plan for a greener future.