seatech solutions
On March 16th, Med Marine signed a contract with the Port Qasim Authority of Pakistan (PQA) for the delivery of a Conventional Twin Screw Buoy Tender Vessel MED-B4500 for buoy-laying in the port located in Pakistan's most populated city of Karachi.
The MED-B4500 is a 45 x 11.8 meter vessel built to facilitate a crew of sixteen. The vessel design is from the proven Buoy Vessel series designed by SeaTech Solutions, Singapore.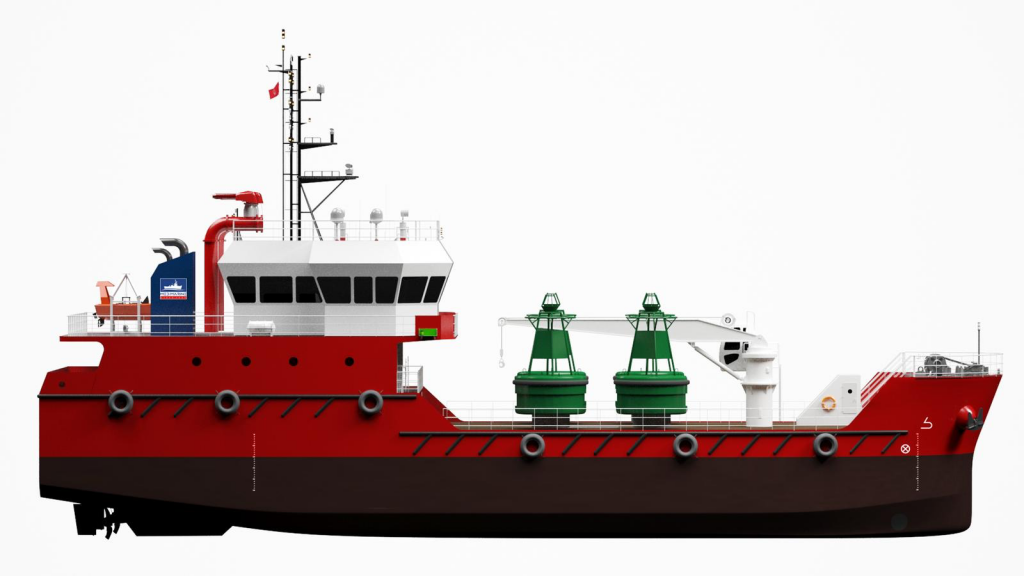 The vessel will be outfitted at Ereğli Shipyard in the Zonguldak region of Turkey. Its delivery is scheduled for mid-2023.
SeaTech's Vice President of Technology, Mr. Prabjot Chopra said: "We are delighted to work with Med Marine, Turkey, on the design of this customized Next Generation Buoy Laying vessel for Port Qasim."
"As Med Marine we are very honoured to be the choice of such a dynamic, modern and fully integrated port facility of Port Qasim. This Buoy Lay Vessel is a customized design from SeaTech Solutions Singapore who have an excellent reputation with many proven designs in their portfolio. I am confident that this project carries our relations with Port Qasim Authority to the higher level," said Med Marine's General Manager, Ms. Yıldız Bozkurt.
| | |
| --- | --- |
| Length O.A | 45 M |
| BREADTH MLD. | 11.80 M |
| DEPTH MLD. | 5.10M |
| SPEED | 12 KNOT |
| COMPLEMENT | 16 MEN |
Other Information
Owner: Port Qasim Authority
Builder: Med Marine Turkey
Vessel Designer: SeaTech Solutions International
ends

---
Company background
About Med Marine
Med Marine is a leading Turkish shipbuilder and leading tugboat operator. The firm employs Eregli Shipyard, one of the largest shipyards in Turkey based on some 180.000 m2 with more than 30.000 m2 indoor areas to build state-of-the-art tugboats, work boats, offshore vessels and coated/Stainless Steel (STST) IMO II type chemical/oil tankers, either for its own operations or clients around the world. Med Marine has a very wide selection of state-of-the-art tugboat design portfolio and the shipyard is constantly being improved with advanced production standards by keeping up with latest health, safety and environmental regulations. Med Marine has successfully completed the construction and delivery of almost 200 projects, including tugboats, chemical/oil tankers, mooring and pilot boats.
For more information, please visit: medmarine.com.tr
About SeaTech Solutions International
SeaTech Solutions has built a strong reputation in vessel design and engineering excellence since its establishment in 2000. Its compendium of over 380 unique designs showcases extensive expertise, innovation and technology, propelling the company as a centre for marine and offshore excellence, offering a complete suite of competencies in-house, from design to engineering and consulting. To date, over 640 vessels operating worldwide bear the SeaTech hallmark of energy efficiency, safety and reliability.
For more information, please visit: www.seatechsolutions.com
About Port Qasim Authority
Port Qasim was established through an Act of parliament on 29th June 1973. It is located in Karachi's Phitti creek of Indus delta region. The port started operation in 1980 with a dedicated Iron Ore Coal Berth for the bulk handling of imports of raw materials for Pakistan Steel Mill. The port presently has 18 berths (15 in private sector) with annual handling capacity of 89 million tons.
All commodities ranging from minerals oils, edible oil, coal, rice, wheat, cement to fertilizers, general cargo, containers and LNG are being handled in the port at state-of-the-art terminals. It is the energy hub and only LNG Port of Pakistan.
Port Qasim has enormous potential for expansion. Two new LNG terminals, one container terminal and 02 multipurpose berths are in the pipeline.
Port Qasim has largest industrial zone of Pakistan spread over 15474 acres. It has more than 400 industrial/commercial units in operation. Approx. 3000 MW electricity is being generated in its industrial zones. Port Qasim is one of the largest contributors to national economy of Pakistan handling its 51% of sea trade and has an impressive growth rate of 5% in all facets of port operation.